Diana Leiniger and Elmedina Redzic from the class 8H
At the beginning of the second semester our class 8H talked about the USA, American schools and their school system. We also got to know their different timetables, subjects and courses. While we were talking about American yearbooks in our English class, Ms. Meyer had the idea to create a digital yearbook about our class. We started in the middle of February and the whole class took part in this project. We worked on it through multiple English lessons.

This is the title page of our digital yearbook.
We started by gathering in different groups and began to collect information about trips we had done in the last four years. Others thought about how to write an introduction for the yearbook, collected wishes and expectations from the students or pondered over student superlatives. Every group had a job, information to collect and then started writing first drafts for the yearbook. A second step was about creating our own individual avatars which we added to the digital yearbook later.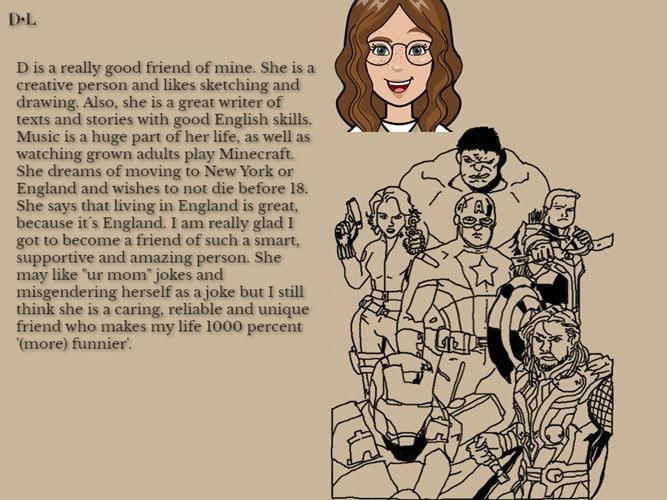 A student profile
The third part was that we worked in groups, and we wrote texts about each other for the student profiles. The next step took us to integrating Ms. Meyer's feedback in our texts. Now we were able to start working collaboratively on our actual yearbook with the digital tool Book Creator. The so-called design team made sure that the chaos was manageable. Furthermore, we decided that it would be a cool idea if we had painted pictures which would match the text and make it look more beautiful. A group of people came together to do that and spent a whole lot of time on it. It ended up looking even better than we expected it to.
All in all, it was a great experience and we had so much fun spending our time on this project. Even though we might have had some issues at some points, it worked out just fine. We had an unforgettable time and would recommend projects like this more often to be done with students. We learned more about each other and grew closer as a class community. We hope for more fun times like this in our very near future.
A text about the christmas market